Sierra Team
Allegiance:
Unit strength:

About 3 fighters
Nearly completely destroyed (presumably)

First appearance:
Last appearance:

Call me Ishmael
All the Fury (if includes O'Neill)
Sierra Team is a fighters unit in Crysis Warhead, whose notable member including Sean O'Neill.
Unknown other fighters/pilots.
Storyline
Edit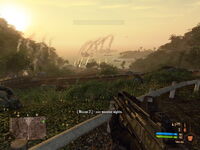 They are first mentioned by Commander Emerson after Psycho wakes up from an EMP blast caused by KPA to stop a Scout that will be contained. He is ordered to link up with them and be there ACM for the airstrike. It is revealed that Sierra 2 is Sean O'Neil, Psycho's old friend. Once Psycho reaches the shore, Sierra Team appears and launches several bombs along the beach. They also attack a KPN cruiser, and one of the jets is seen crashing into the water. Sierra 3 is reallocated to another target, while Sierra 2 gives Psycho ground support.
As Psycho fights his way to a hotel, O'Neill helps find several strategically important MIL-Net connections and weapon caches. After he secures the hotel, he is seen outmaneuvering 2 Su-27s chasing after him. He drops some bombs and continues the runaway, only to be hit by a missile, and crashes in the forest, leaving his fighter vulnerable to be captured.
Vehicles
Edit