"Only Human" is the sixth mission of Crysis 3.
Prophet, Psycho and Claire board a VTOL in an attempt to shut down the Power Beam before an Einstein-Rosen Bridge is formed. When they are shot down by Ceph ships, Claire is wounded and dies. Prophet and Psycho continue on towards the Power Beam, with Psycho finding another VTOL and Prophet disabling Ceph air defences.
After an air battle in the VTOL and a fight with Ceph Master Mind, the mission ends when Prophet falls into the collapsing ground around the Ceph Power Beam.
Characters
Edit
Transcript
Edit
See Only Human/Transcript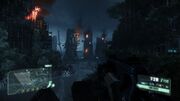 Collectibles
Edit
Ad blocker interference detected!
Wikia is a free-to-use site that makes money from advertising. We have a modified experience for viewers using ad blockers

Wikia is not accessible if you've made further modifications. Remove the custom ad blocker rule(s) and the page will load as expected.