"Only Human" is the seventh mission of Crysis 3.
After discover the Red Star Rising information, Prophet and Psycho go to Ceph wormhole by VTOL to fight against Alpha Ceph. But they are shot down by Ceph's Anti-Aircraft Artilery. Unfortunately, wounded Claire did not survive in that accident. Psycho take a new VTOL and Prophet destroy the Ceph Triple-A.
They have destroy it and clearing the sky around Nanodome. The VTOL engines are damaging and need to landing to repair them. Psycho has repair the engine and they prepare to fly again, but Prophet pulled by Ceph Mastermind. He has beat that mastermind and go to the wormhole himself. Prophet pulled again by Ceph wormhole and fainting.
Characters
Edit
Prophet, Michael and Liberty Dome Rebels.
Transcript
Edit
See Only Human/Transcript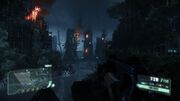 Collectibles
Edit
Ad blocker interference detected!
Wikia is a free-to-use site that makes money from advertising. We have a modified experience for viewers using ad blockers

Wikia is not accessible if you've made further modifications. Remove the custom ad blocker rule(s) and the page will load as expected.