The Holographic Decoy is an underbarrel multiplayer attachment in Crysis 2. It emits a lifelike hologram of a hostile soldier that will run through the battlefield, attracting gunfire. The soldier appears either in Armor or Power modes, but never in stealth.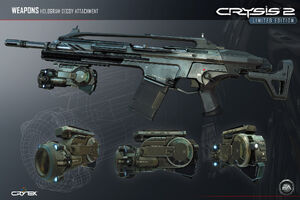 Advantages
Edit
The Holographic Decoy can be fired to lure an enemy into revealing their position.
It can also be used to create a distraction while the player moves to another area of the map.
It can also be used to lure enemies into a trap.
Disadvantages
Edit
When fired, it uses a small amount of the nanosuit's energy.
When using it on Jackal shotgun, the crosshair disappears so the player has to aim down sights to set the exact position of the hologram.
After being shot or ran through the hologram disappears.
Ad blocker interference detected!
Wikia is a free-to-use site that makes money from advertising. We have a modified experience for viewers using ad blockers

Wikia is not accessible if you've made further modifications. Remove the custom ad blocker rule(s) and the page will load as expected.